Kilcoyne & Barnes Veterinary Services established in 1924, have the experience you need to ensure your farm operation runs as effectively as possible. Our goal is to provide the best possible health care and welfare for your animals and in doing so increase the efficiency of your business. We are always there when you need us, providing comprehensive 24/7 emergency professional veterinary care. Our in-house laboratory has the latest diagnostic equipment delivering prompt results and enabling us to provide thorough advice to you.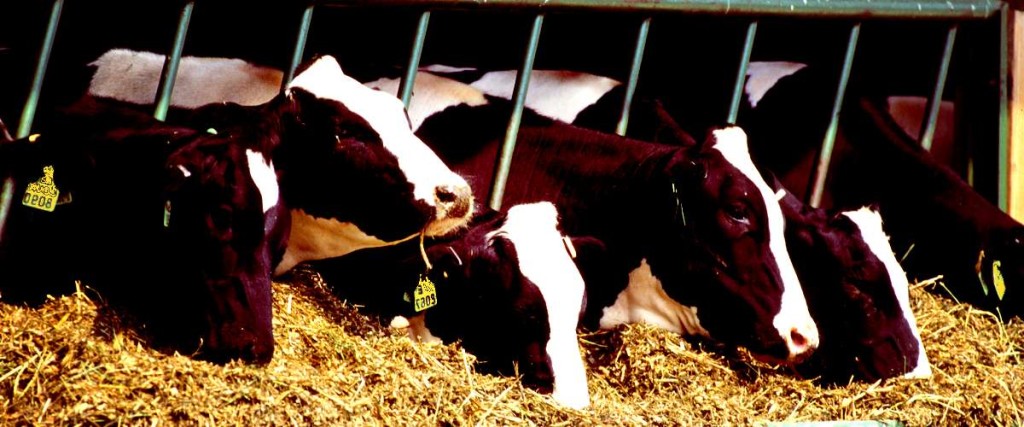 Routine Animal health care
Vaccination and Worming
Preventative care and health
Effective Herd and Flock health plans
Fertility Management
Ultrasound scanner
Bull Fertility management
Bull Fertility certification
Nutrition management
Inration programming
In-house Laboratory Analysis
Cattle Lameness
Large Animal Clinical Care
24 hour emergency service
More Information + XLVets Factsheets

Bull Breeding Soundness Examination
A tight calving period is essential in maximising herd productivity. There are a number of factors affecting whether this can be achieved ranging from cow health, disease status to the one that is most often forgotten, bull health and fertility.
Fertility problems in herds are usually put down to problems with cows. The bull who may have done one season too many or the bought in unproven young bull are often overlooked when pregnancy rates are not up to scratch. Of course any breeding male can suffer from fertility problems due to disease, trauma, or wearing out. When relying upon these animals to maintain the productivity of your farm it is essential to know that they are capable of breeding to the level required.
Kilcoyne Vets can now perform bull breeding soundness examinations giving you a comprehensive assessment of the semen quality and breeding ability of the animal in question. The examination takes approximately one hour and involves an on farm clinical examination and collection of semen sample by electro-ejaculation. The semen is then immediately assessed for quality microscopically before a final high magnification quality check back at the surgery.
This service will be of use with a wide range of animals including: maiden bulls prior to being sold, previously proven bulls that have returned poor pregnancy rates, bulls with undersized testicles. The results will provide the owner with an answer allowing them to make an informed decision over the future of the animal.
Management also plays a huge role in the health of your bull; correct feeding and condition score, ensuring he is not over worked, and is free from lameness and clinical disease, but this is not the whole story. It is rare for bulls to be infertile however a sub-optimum level of fertility is very common. Fertility testing can be done on farm and is easily carried out. It provides you accurate information regarding your bull fertility status.
We recommend that testing should be carried out yearly at least 2-3 months before you require your bull to work. This means there is plenty of time to resolve any problems that we may find. In addition testing of breeding bull stock over a year old allows any sale to be supported with a veterinary certificate regarding his status at the time of testing.
Please remember the introduction of a new bull into a herd should always be considered a disease risk.
Read more on the XLVets Factsheet or Contact us if you would like more information about our Bull Breeding Soundness Examination.

BVD suppresses the immune system of infected animals. These animals are then less able to fight off infections such as mastitis or pneumonia. As a result, a whole host of disease situations may become much more serious on a farm where BVD is also active. Read more on the
XLVets Factsheet
or
Contact us
if you would like more information about the BVD Virus.

Johne's disease is a chronic disease which progressively damages the intestines and after a period of scouring and weight loss, ultimately results in the animal's death. It causes huge economic loss to the national cattle industry and yet its presence goes unrecognised in many herds. It is also a notifiable disease within Northern Ireland. Read more on the
XLVets Factsheet
or
Contact us
 for more about Johnes Disease.

IBR is the most obvious clinical disease associated with infection by Bovine Herpesvirus 1 (BoHV-1). IBR is a disease of the upper respiratory tract which varies in severity, depending on the strain of virus involved and other factors which may influence the immune status of the animal. In severe cases, damage to the upper airways may lead to pneumonia and sometimes death. BoHV-1 infection has also been associated with infertility, abortion, high temperatures and milk drop. Read more on the
XLVets Factsheet
or
Contact us.

Environmental mastitis is mastitis that is derived from the environment in which the cow lives. The condition can be severe and prevention aimed at keeping the cow and her environment as clean and dry as possible is paramount. Spot the early signs –  A cow with clots in the milk and a swollen udder spotted in the milking parlour allows treatment to be started as soon as possible. Read more on the
XLVets Factsheet
or
Contact us
 for more information.
The basics are simple – it occurs in summer, it is spread by flies and it affects dry cows, heifers or young calves. It is an
acute disease of the non-lactating mammary gland and is mainly caused by the bacterium Trueperella pyogenes. Other organisms can increase its severity and allow infection to establish more readily. Read more on the
XLVets Factsheet
or
Contact us
 for more about Summer Mastitis.
Cell Count Reduction Programme
Raised somatic cell counts and raised levels of clinical mastitis are costing farmers money:
Herds with high cell counts are producing less milk (approx. 0.5L milk per cow per day)
Penalties and forgone bonuses
Antibiotic costs to treat clinical cases
Withheld/ discarded milk
Culled cows and replacement costs
Additional labour costs
But perhaps the most damaging part of mastitis is the hassle and stress raised cell counts cause the producer.
The Kilcoyne Vets Cell Count reduction programme is a season- long plan to get to get your mastitis and cell count problems in hand for the long term. There is no quick fix for high cell counts, but working together, implementing the best and most up to date veterinary protocols available we can virtually guarantee that cell counts will be under control at the end of the programme.
The programme entails the following;
Farm Data Analysis:
Milk recording and clinical mastitis data is evaluated to identify patterns of infection on your farm. It will help determine seasonality of disease, whether mastitis is likely to be environmental or contagious and whether infections are from the dry period or lactating period.
We can access most of this through your ICBF account. If you do not presently milk record you will need to sign up with ICBF, and three recordings over 3 weeks will give us a base line at which to start.
Bacteriology:
Samples from identified problem cows will guide us as to the best strategies to put in place.
Farm Visit:
An on-farm questionnaire and survey will then be undertaken. We will be looking at cow housing, including dry cows and heifers, milking parlour function and routine, management of the dry period, treatment of mastitis, bio-security and young stock management.
Action Plan:
A specific agreed action plan for your farm will then be drawn up. Action points will be discussed and the points we conclude will have the biggest impact on your farm will be highlighted for immediate implementation.
Review:
We will examine progress at an agreed appointment 2-3 months after the plan is initiated. Re-evaluation or change of emphasis of some of the action points may be needed at this stage.
If the plan is implemented, generally by the time of the review, you will be started on the road to a reduced cell count. Kilcoyne vets will thereafter continue to be available to provide advice as required until satisfactory results are achieved.
Reducing cell counts makes your cows more profitable.
Laboratory Services
Mastitis – We are now running in house mastitis culture systems with a rapid turnaround (18-24 hours) allowing accurate diagnosis and targeted treatment therapy to be put in place. Just bring us a sterile milk sample from the affected quarter or high cell count cows.
Calf Scours– Kits are available for in house testing of calf scour samples allowing diagnosis of E.Coli, Rotavirus, Coronavirus and Cryptosporidium.
Parasitology– Fecal egg counting allows species differentiation of Liver Fluke, Rumen Fluke, Roundworm and Coccidiosis, allowing accurate worm management and detection of resistance of issues. Giving a targeted approach to herd and flock treatment in order to maximise liveweight gain and improve profitability.
Post Mortem Examinations are carried out on farm to determine the cause of death and disease status, if necessary samples can be sent to external laboratories for further testing.
Virology, bacterial culture and trace element testing are carried out in conjunction with the regional veterinary laboratory.
Microscopy is also used for examination of blood smears, semen, faeces, urine and other tissues.
Colostrum quality and absorption efficiency testing.
Flock Health Planning
We aim to offer effective flock health planning to maximise performance and maintain profitability that suits the individual needs of your farm.
This can include:
vaccination programmes.
Worm egg counts and dosing regimes.
Treatment Protocols for health problems
Pre- Breeding Examination including semen sampling of rams
Discussion of synchronisation protocols and ewe fertility
Production of vasectomised rams to act as teasers to tighten lambing patterns.
Full abortion investigations to minimise losses in the face of an outbreak and to introduce plans to prevent future losses
lameness management.